| | |
| --- | --- |
| Theatre | Westbury Cinerama |
| Cinerama film formats shown | 70mm |
| 3-strip dates | |
| 70mm dates | Opened 06/30/67 with Grand Prix |
| Screen curvature and size | |
| Address | 105 Queensbury Dr. SW |
| Comments | Twinned 12/22/76. Closed 10/10/93. |
| Current status | Tornado 11/89 destroyed the building |
Below from hsvmovies.com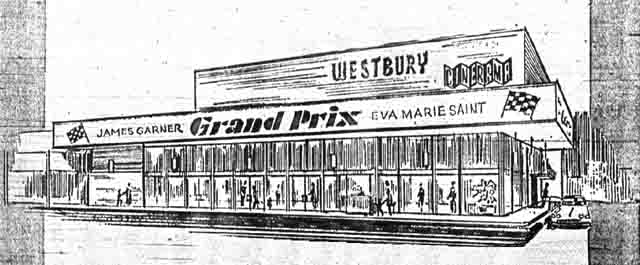 The Westbury Cinerama opened on Friday, June 30, 1967 at 105 Queensbury Dr. SW and the address was later changed to 1001 Airport Rd. J. T. Schrimsher, Inc. was the contractor.
The first movie shown there was "Grand Prix" (Super Panavision and Metrocolor). The first showing was at 8:00 PM opening night.
The theatre featured rocking chairs, a "Super Cinerama" screen, all-purpose projection equipment, and all red decorations.
The theatre was later made into a "twin cinema". It advertised that it was "Announcing the Birth of Twins" and on the grand reopening as a "twin cinema" on Wednesday, December 22, 1976, free orchids were given away to the first 200 ladies to show up, and free twin packs of cigars were given to the first 200 men. The doors opened at 7 PM and the following movies were shown that night: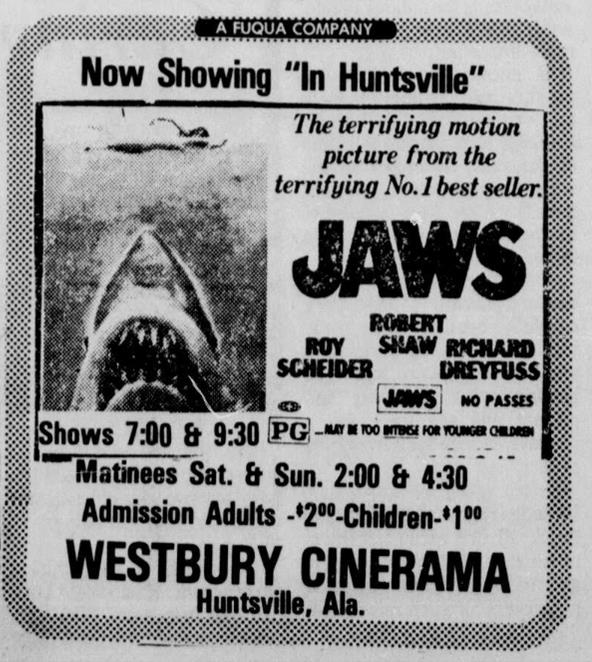 Below taken in 1983 from American Classic Images . "CINEMAS" replaced "CINERAMA" on the sign