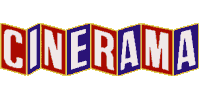 11/20 - Month-Long Ballyhoo for Prize Drawing Builds 'Grand Prix' in San Jose, Calif.
12/11 - Cinerama to Release 12 Films, 2 Roadshows in '68
12/18 - Ads for CINERAMA and Cinerama Releasing Corporation

The theaters I normally report on were not showing any Cinerama films from November through January. I thought some of you might be interested to see how well the 70mm version of Gone With The Wind did at the boxoffice during these months.
Under each date is how well the title is doing at the boxoffice. 100 is average or normal.
| | | | | | | | |
| --- | --- | --- | --- | --- | --- | --- | --- |
| Title | Theatre | City | 11/13 | 11/20 | 11/27 | 12/4 | 12/11 |
| Gone With The Wind | Cinerama | Hartford | 500 | 600 | 300 | 275 | 250 |
| Gone With The Wind | Gary | Boston | 500 | 500 | 500 | 600 | 400 |
| Gone With The Wind | Cinestage | Chicago | 375 | 400 | 375 | 375 | 400 |
| Gone With The Wind | Glenwood | Kansas City | * | 800 | 800 | 800 | 800 |
* No info for this date

| 1953 | 1954 | 1955 | 1956 | 1957 | 1958 | 1959 | 1960 | 1961 | 1962 | 1963 | 1964 | 1965 | 1966 | 1967 | 1968 | 1969 |
Return to: Home Page