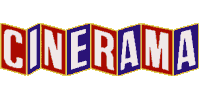 4/03 - Schaner Promotes Model Exploration For Buffalo Premiere of 'Grand Prix'
5/01 - Redstone Cinema 3 Opens With 'Bible'
5/08 - Well-Paced Campaign Leads 'Prix' date At Blumenfeld's Sacramento Esquire. Cinerama Growth, Gain In Earnings Reported.
5/15 - School Program Tie-Up Adds to 'Prix' Campaign of Capri Theatre in Dallas. 'Ice Station Zebra' Slated As MGM-Cinerama Film
Under each date is how well the title is doing at the boxoffice. 100 is average or normal.
| | | | | | | | | | | | |
| --- | --- | --- | --- | --- | --- | --- | --- | --- | --- | --- | --- |
| Title | Theatre | City | 4/3 | 4/10 | 4/17 | 4/24 | 5/1 | 5/8 | 5/15 | 5/22 | 5/29 |
| Grand Prix | Cinerama | Hartford | 150 | 130 | 135 | 250 | 175 | 170 | 200 | 150 | 125 |
| Grand Prix | Boston | Boston | 150 | 135 | 115 | 155 | 165 | 155 | 145 | 140 | 130 |
| 1953 | 1954 | 1955 | 1956 | 1957 | 1958 | 1959 | 1960 | 1961 | 1962 | 1963 | 1964 | 1965 | 1966 | 1967 | 1968 | 1969 |
Return to: Home Page