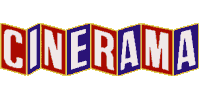 4/08 - Benefit showing of It's A Mad, Mad, Mad, Mad World at the Hartford Cinerama Theatre
4/20 - Showman Becomes Poet (in Ads) When Theatre Is Closed During Conversion
4/22 - To the Moon and Beyond
4/25 - Miss Cinerama Competition
4/27 - 'Smash' Opening Reported For Cinerama Drive-In. Ampex sound ad.
4/29 - Cinerama Showing New Techniques

Under each date is how well the title is doing at the Boxoffice. 100 is average or normal.
| | | | | | | |
| --- | --- | --- | --- | --- | --- | --- |
| Title | Theatre | City | 4/6 | 4/13 | 4/20 | 4/27 |
| It's a Mad, Mad, Mad, Mad World | Cinerama | Hartford | 350 | 285 | 250 | 250 |
| It's a Mad, Mad, Mad, Mad World | Boston | Boston | 175 | 165 | 175 | 200 |
| It's a Mad, Mad, Mad, Mad World | Empire | Kansas City | 150 | 125 | 125 | 150 |
| It's a Mad, Mad, Mad, Mad World | McVickers | Chicago | 125 | 120 | 130 | 115 |
| How the West Was Won | Indiana | Indianapolis | 200 | 200 | 175 | 175 |
| 1953 | 1954 | 1955 | 1956 | 1957 | 1958 | 1959 | 1960 | 1961 | 1962 | 1963 | 1964 | 1965 | 1966 | 1967 | 1968 | 1969 |
Return to: Home Page