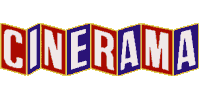 11/04 - Old Times Square Strand Transformed For 'Mad World' Cinerama Opening
11/11 - It's A Mad, Mad, Mad, Mad World review. Hollywood Premiere of 'Mad World' Benefits the Industry as Well.
11/13 - A Mad, Mad, Mad, Mad Trip
- Cinerama Using Ampex System
11/27 - The new ABC Coliseum Cinerama Theatre

Under each date is how well the title is doing at the Boxoffice. 100 is average or normal.
| | | | | | | |
| --- | --- | --- | --- | --- | --- | --- |
| Title | Theatre | City | 11/04 | 11/11 | 11/18 | 11/25 |
| How The West Was Won | Cinerama | Hartford | 100 | 95 | 90 | 90 |
| How The West Was Won | Boston | Boston | 130 | 155 | 150 | 300* |
| How The West Was Won | Empire | Kansas City | 200 | 150 | 125 | 125 |
| How The West Was Won | Loew's Cinerama | New York | 160 | 150 | 160 | 150 |
| How The West Was Won | Indiana | Indianapolis | 225 | 175 | 150 | 125 |
* Changed to It's A Mad, Mad, Mad, Mad World
| 1953 | 1954 | 1955 | 1956 | 1957 | 1958 | 1959 | 1960 | 1961 | 1962 | 1963 | 1964 | 1965 | 1966 | 1967 | 1968 | 1969 |

Return to: Home Page