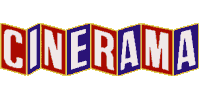 5/01 - Cinemiracle Develops Single-lens System
5/08 - Cinemiracle Taking Over Todd's 'Holiday in Spain'
5/15 - Cinerama in a 'Balloon' Will Tour U.S. in 1962
5/22 - Cooper Theaters Will Construct 2nd Cinerama Theatre, in Kansas City.
Under each date is how well the title is doing at the Boxoffice. 100 is average or normal.
| | | | | |
| --- | --- | --- | --- | --- |
| Title | Theatre | City | 4/10 | 4/17-6/12 |
| Cinerama Holiday | Indiana | Indianapolis | 275 | 90-135 |
| 1953 | 1954 | 1955 | 1956 | 1957 | 1958 | 1959 | 1960 | 1961 | 1962 | 1963 | 1964 | 1965 | 1966 | 1967 | 1968 | 1969 |

Return to: Home Page