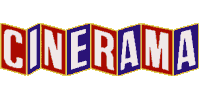 04/28 - First birthday for the Warner Hollywood Theatre
08/07 - "This Is Cinerama" showing planned at Damascus fair
09/04 - Cinerama equipment flown to London
10/02 - 3rd year on Broadway. 2nd anniversary

Under each date is how well the title is doing at the Boxoffice. 100 is average or normal.
| | | | | | | | | |
| --- | --- | --- | --- | --- | --- | --- | --- | --- |
| Title | Theatre | City | 1/9-12/4 | Theatre | City | 9/25 | 11/6 | 12/25 |
| This Is Cinerama | Warners | Hollywood | 90-110 | Eitel's Palace | Chicago | 260 | 240 | 220 |

| 1953 | 1954 | 1955 | 1956 | 1957 | 1958 | 1959 | 1960 | 1961 | 1962 | 1963 | 1964 | 1965 | 1966 | 1967 | 1968 | 1969 |

Return to: Home Page